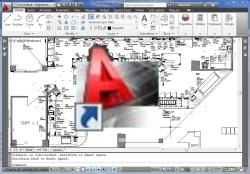 AutoCAD Training and Standards Development
A productive CAD environment is paramount to any successful business. It's not only Training that can improve productivity, it is also a good set of Standards and good Management of the System that will really make things hum. AutoCAD is an extremely powerful drafting and design tool with an open structure at its core - as we like to refer to it, "It is no more than and Electronic Drawing board". Well, that's not really the case, but that is how a majority of users actually use it. Take your Design/ Drafting office to the next level - read on to see how iDraft Design can guide you in the right direction by sharing our vast experience with you...
iDraft's Training sessions are purpose designed to suit the specific needs of the Client. Predefined courses offered by the conventional Institutions are really only effective for those who are starting from scratch or have followed through with the courses from the start. For a semi-skilled Operator to undertake a defined course they will generally find they already have the basics and perhaps some of the more complex functions of the Software under control. For this operator these courses are too often ineffectual due to the Student's need to undertake a basic course to ensure they are well versed with all of the basics first. Often, the end result is that they'll waste half of the Course time or worst still, become bored covering the aspects they already know, leading to non-completion of the course . This always raises the question - "Which is the right Course if I'm self taught or already part way there?".
Recognizing this problem, iDraft specifically attacks the particular features that the Operator isn't yet aware of with the aim of tailoring the Training to suit the particular Business needs. This is done through a short interview process with the potential Student/s to determine their current level of expertise. iDraft will also liaise with your key personnel to ensure that the proposed Training specifically addresses the Business requirements.
iDraft aren't just a 9 till 5 operation - they'll even come to you after hours (even on weekends) and train you on a one to one basis or several at a time - it's your call. You'll find the cost to be quite reasonable because iDraft doesn't have a big room set up with Computers and all that expensive classroom stuff. The training is all carried out at your place, on your equipment where you feel comfortable and you get to keep any work that may be done in the Session/s.
Oh, and by the way, as good as iDraft's training is, sometimes AutoCAD won't always play ball and things won't quite go to plan. That's why iDraft offers limited support Services following the Training sessions as part of the Deal. These support Services can also be maintained following your Training course for as long you feel this Services is beneficial to you.
It's time to discuss your Training needs with iDraft and they will review your particular needs and draft up a proposal for your consideration. Get trained by a Hands on Operator (he actually knows what you're trying to achieve) - Go ahead- what have you got to lose?
Setting up your Drafting Standards
A well developed set of Documented Standards are critical to achieving the productivity you desire for your business. With AutoCAD's open structure for Layers, Block Libraries, Model and Layout spaces, etc. it allows the operator to use it in a multitude of ways. This isn't a tool developed specifically for the Architect, Mechanical Engineer, Landscape designer, dress designer, jeweller, etc. it is an open design that allows anyone who needs to do a technical drawing can use. In reality, AutoCAD's open structure is both its stength and weakness. Sounds silly doesn't it, but this is where you need to implement your working standards?
In order to achieve a good working relationship between your team members as well as external Project members, there needs to be a common set of 'rules' applied to the drawings. Development and documentation of a set of logical working Standards should be applied and managed to cover such variables as Layer naming conventions, Block development techniques, etc. to really maximize your return on investment. This will ultimately ensure that everyone is working to the same standards without having to read the minds of what the other team members were trying to achieve. It also means that everyone will be working towards the same result and as such, productivity gains are a logical by-product of any team that works together toward a common goal.
iDraft's wide ranging experience dealing with many different business types provides an edge in understanding your business - call us to find out more about how a well documented system can improve your productivity...
Sure, now the standards are set up - you should be more productive than ever before - aren't you?. Once the training and the standards have been set up, you should be well on the way to a productive CAD environment. This is where the CAD Manager needs to 'stay on the ball' to ensure that the CAD Standards and skill levels of their staff is maintained or enhanced to meet the business requirements. Firstly, an auditing methodology needs to be deployed to ensure that the staff are using the applicable standards correctly and that the training they have been provided is still relevant - perhaps a refresher course or the development of new skills are required to further the functionality, quality or quantity of the product being produced.
Autodesk releases a new version of AutoCAD every year with new and/or updated functionality. Each new version should be reviewed by the CAD Manager prior to roll out to the users to determine any potential software 'bugs' with the particular way you are using the software. Another factor to consider is the real benefits of the new software - do the new functions resolve an issue that you have, does it improve the way you currently do things or is it just a bunch of functions that offer no benefits and you'll just get the staff retrained for nothing?
Once iDraft has assisted you with your training and setting up of CAD standards, they will have an in depth of your specific CAD requirements. So, here again, as they are required to keep abreast of the new functions in the software, they can provide further guidance on the suitability of the new version for your office - give iDraft Design a call for more information.